Today's Aerials Stars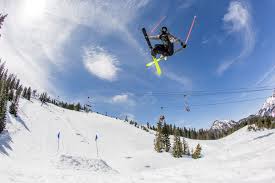 Nicolas Fontaine, Canada. 1997 World Champion and current four-time World Cup Aerials ChampionSilver medallist at the 1992 Olympics. First skier ever to perform quadruple somersaults in competition (at last year's national championships).
Eric Bergoust, USA. Bergoust captured the 1998 Olympic Gold medal in Nagano Japan. Multiple World Cup winner, also set world-record score of 260.98 points this summer at Mount Buller, Australia.
Dmitri Dashinski, Belarus. Bronze medallist at the 1998 Nagano Winter Olympic Games. Finished fifth overall in 1999-2000.
Andy Capicik, Canada. Bronze medallist at the 1997 World Championships. Fourth at the 1994 Olympic Winter games behind teammates Laroche and Langlois.
Alexei Grichin, Belarus. Second overall in 1999-2000, earning four podium appearances including two gold medals.
Joe Pack, USA. Overcame earlier injuries in his career to finish third last season, including one victory.
Steve Omischl, Canada. Rookie of the year on the World Cup tour last season, earning two medals and finishing fourth overall.
Kyle Nissen, Canada. Surprised everyone in his third World Cup, taking the gold medal ahead of veteran and teammate Fontaine.